13 benefits of great UI/UX design for your online business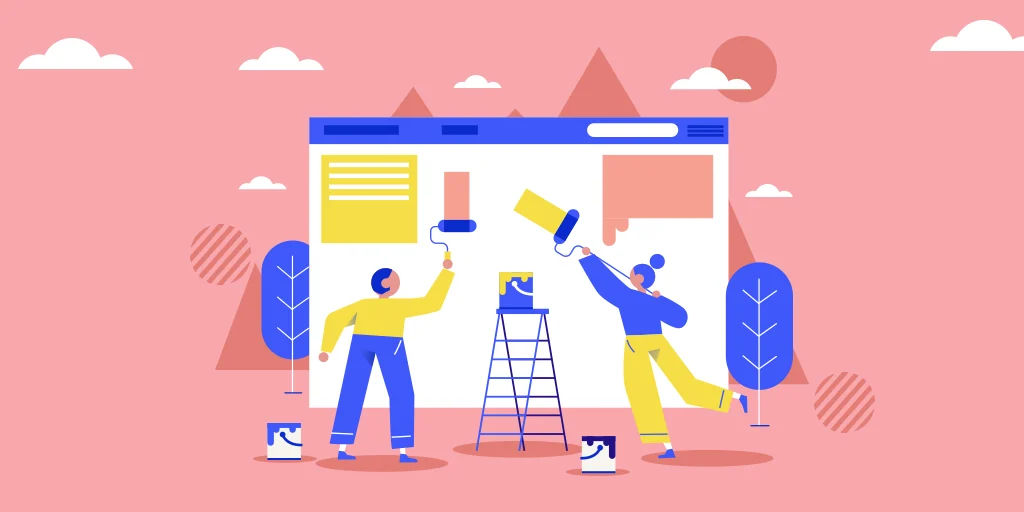 User Interface (UI)
User Interface (UI) design is the graphical layout of an application. It consists of the buttons users click on, the text they read, the images, sliders, text entry fields, and all the rest of the items the user interacts with. This includes screen layout, transitions, interface animations and every single micro-interaction. Any sort of visual element, interaction, or animation must all be designed.
What is UX Design?
User experience (UX) design is the process design teams use to create products that provide meaningful and relevant experiences to users. UX design involves the design of the entire process of acquiring and integrating the product, including aspects of branding, design, usability and function.
Why do you need UI/UX for your business ?
UI/UX design is an essential part of your website. Enhancing this aspect of your site enables you to attract more prospects, increase conversions, sales, and overall profitability, and improve customer retention. A good UI / UX design helps you get better results in the long run. It can help you generate more leads and improve conversion rates. This translates to better revenues for your company. With a great UI / UX design, you can easily fulfill the needs of your clients, increase the customer's willingness to pay
Brand loyalty: Using the right UI/UX design can enhance customer's satisfaction. When customers are satisfied, you can retain them, and that's the secret for building brand loyalty.
Consistency: Being consistent with your brand/products and offering excellent user experiences is key to a profitable business.
Customer satisfaction: An outstanding UI/UX design should be interactive and navigable engaging content that makes people stay longer on your site.
What are the benefits of UI/UX Design for small businesses?
Retain Users for a Long Time — When effectively curated, your user design increases repeat sales. An interface with a great layout and easy to navigate will attract loyal customers who want to go with you to the digital experience. You'll experience low bounce rates and high brand loyalty. A good example is Facebook which has nurtured interactions, a great UI, and feature upgrades to achieve a 5% increase in daily active users who log in every day.
Boosts Branding — Offering value with your products, services, and UI/UX design boosts brand identity and credibility. It helps to establish positive customer relationships and inspire loyalty.
Attracts New Customers on the Platform — By attending to the needs of consumers, you'll be attracting more prospects who'll want to convert. With outstanding UI/UX, the right approach will pique customer interest and eventually lead to fruitful conversions.
Increases Productivity — A streamlined website with an intuitive UI/UX design can raise your ROI by creating a smooth workflow for employees. Your employees will enjoy seamless experiences working on pertinent matters without distractions, ensuring high productivity rates.
Increases Conversion Rates of Your Platform — A good UI/UX design will encourage customers to return to your site for more. They'll love the experience, stay on for longer and come more often to shop. With time they'll recommend your business to friends and boost conversion rates for your platform.
Helps in Search Engine Optimization — UI/UX design can boost your SEO. Incorporate it on your website to improve search functions. An excellent design optimizes your site for SEO. Additionally, UI/UX of your landing pages also plays a major role in boosting conversion rates of your website. Your landing page is the first impression of your website. The more time your customers spend on it, the higher chance they'll convert into buyers.
Reduces Costs — Integrating an optimized UI/UX design into the development process will help you address usability issues beforehand and avoid extra re-design costs. Good usability testing software may help plan for a scalable, flexible design that grows as your customer base increases.
Best Experience for All Devices — UI/UX design offers optimal experiences on all devices, including PCs, smartphones, and tablets. That's who you should ensure it's optimized to offer seamless browsing experiences for mobile users. Uniformity across platforms will help you tap into a broader audience base, increasing your overall bottom line.
Improved Website Speed — Impressive UX and UI may increase your site's load speed. And the site's load time can have a massive impact on your revenue. Boosting a site's load time by only 0.1% can increase conversions by 10% for travel websites and 8% for retail websites.
Interaction Acknowledgment — A quality UI or UX design offers interactive experiences to customers when browsing, downloading, purchasing, or performing any action on your website.
Improves Customer Satisfaction — A well-crafted UI/UX design offers smooth navigation and ease of use. Your customers will enjoy fast experiences that enhance their satisfaction with your site, products, and brand. A satisfied consumer is a loyal customer who will help you market your products to others.
Save Time and Money — Both customers and prospects come to your website to get information or purchase products. With a UI/UX design done right, you'll not spend any time and money on customer support.
Get Your Competitors' Customers — UX is a competitive differentiator. Most customers expect a fantastic user experience from brands, anyways. And if they find a slow-loading website or one that's difficult to navigate, they'll check out a similar site.
We can conclude that, UI/UX design is the lifeblood of brand credibility/loyalty, conversions, productivity, high SERP rankings, customer retention, and overall customer experience. Investing in a quality design pays off while saving you the time and money on unnecessary updates and re-designs. UI/UX design is the first interaction your customers have with your brand. Make it impressive enough to compel them to take action.
At Laxaar, we provide next generation services in the design & development of scalable software solutions. Our UI/UX designers will ensure a stellar design, excellent navigational, and impressive brand presence for your website, for reference of a well-designed & attractive designs you can have a look at https://www.laxaar.com/portfolio .
We have offered our service to 77+ premium clients, & the ratings given by our clients imply that they are highly satisfied with the Product and the after-sales services like 24/7 Product Support, Partner Benefits, etc. To gather more information about the budget required for creation a website or mobile app kindly visit https://www.laxaar.com/quote to get a complete Free Quote or an estimate for the budget requirements to have a Premium Well-Designed website that can attract your target audience.